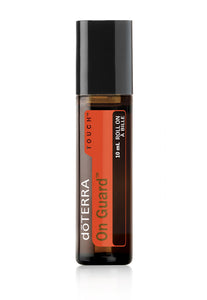 Botanista Plants
On Guard Roller
Regular price
$37.00
$0.00
Unit price
per
How Do I Use On Guard Oil?
Breakfast Boost:

 

Kick off the day with a burst of fortifying flavor by adding a drop or two of On Guard essential oil blend to your favorite breakfast.  We suggest adding On Guard to pancake batter, oatmeal, orange juice, tea, or even fresh apple slices! With On Guard essential oil, you can turn an already tasty breakfast into an essential oil-enhanced treat.  
Smoothie:

 

Another perfect way to enjoy the delicious flavor of On Guard oil is by adding one or two drops of On Guard oil into a morning smoothie. Combine the best of fall flavors with the sweet and spiced taste of On Guard oil in this On Guard Pumpkin Smoothie recipe for a delicious beverage to start every morning off right.
Morning Aroma:

 

When you wake up in the morning, apply doTERRA Touch® On Guard to your wrists for an invigorating aroma. You can also apply doTERRA Touch On Guard to the bottom of your child's feet to give them a supportive and uplifting aromatic boost before school. 
Home Cleaner:

 

Ingredients like Clove Bud oil, Wild Orange oil, and Cinnamon Bark oil give On Guard oil blend powerful topical cleansing benefits. With its invigorating and fortifying aroma, On Guard oil offers a fragrant, naturally sourced way to clean household surfaces. Visit one of our favorite blog posts for four amazing cleaning DIYs with On Guard oil, all easily

 

Made in a Minute.

 

 
DIY Potpourri:

 

Get creative with On Guard essential oil by making DIY Potpourri that will leave your house smelling fresh with the spice and citrus scents of On Guard essential oil. Simply arrange craft pinecones and fresh cinnamon sticks in a decorative dish of your choosing and add a few drops of On Guard to add an uplifting and purifying aroma. 
Diffusion:

 

On Guard essential oil emits a warm, spicy, and woody aroma. To fill your home or office space with an energizing and positive fragrance, add three to five drops of On Guard essential oil to a diffuser of your choice, and diffuse throughout the day. On Guard essential oil offers a cleansing and fortifying aroma to any space, which can be especially pleasant during the fall and winter months.  
---